Summer Blooming Plant Favorites
Day Lillies
Versatile Day Lillies (Hemerocallis) are a staple plant in most summer flower gardens. These hardy perennial plants adapt to almost any soil condition and can be seen in all growing zones, although they grow best in zones 4-9.
Daylilies come in a wide range of bloom colors, mature heights, and petal counts, so they are ideal for any flower garden. Some varieties even produce evergreen foliage that will add interest to gardens long after the bloom time has ended.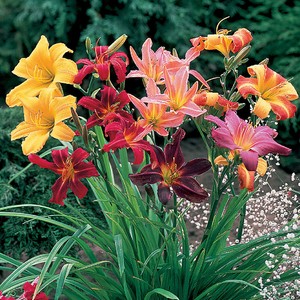 Highly prized for their summer blooms and medicinal usage, coneflowers (Echinacea) are a must-have plant in the summer garden. Hardy in growing zone 3-8, coneflowers love a full sun location and well-draining soil to grow in.
These cheerful. Native plants have coarse foliage and multi-petaled, colorful flowers. The plant is also sturdy and needs no maintenance. These hardy plants don't need to be watered and fed and have no pest issues.
This hardy, sun-loving plant produces blooms when most other flowers have wilted under the summer sun. Cardinal flowers (Lobelia cardinalis) produce stalks of tiny, intense red blooms that reach a height of three feet.
Cardinal flowers are native to northern states and are hardy in growing zones 1-10. The plant will spread via self-seeding and needs minimal care when planted in full sun and fertile soil.
Daffodils (Narcissus), a perennial plant, will naturalize and live for many years when planted in a sunny location that has well-draining soil. The sunny yellow blooms are often associated with the arrival of spring, but with the 100's hybrid varieties now available. They are summer-blooming plants too. Daffodils are hardy in growing zones 3-8, come in several different bloom colors, and reach a mature height of around 12 inches.