10 Best Types Of Ferns For Partial Sun Areas
Are you looking for the perfect greenery to fill a partially shaded spot in your garden? Adding ferns into your environment can create an oasis of lush green beauty, from all fun ferns to large shrub-like varieties. Many ferns thrive even in less-than-optimal sunlight conditions, and they will add life to any area!
This article will cover the ten best types of ferns that do well with partial sun exposure. So if you're wondering what kinds of fern plants are best suited for a semi-shaded corner or backyard section, this article is what you need!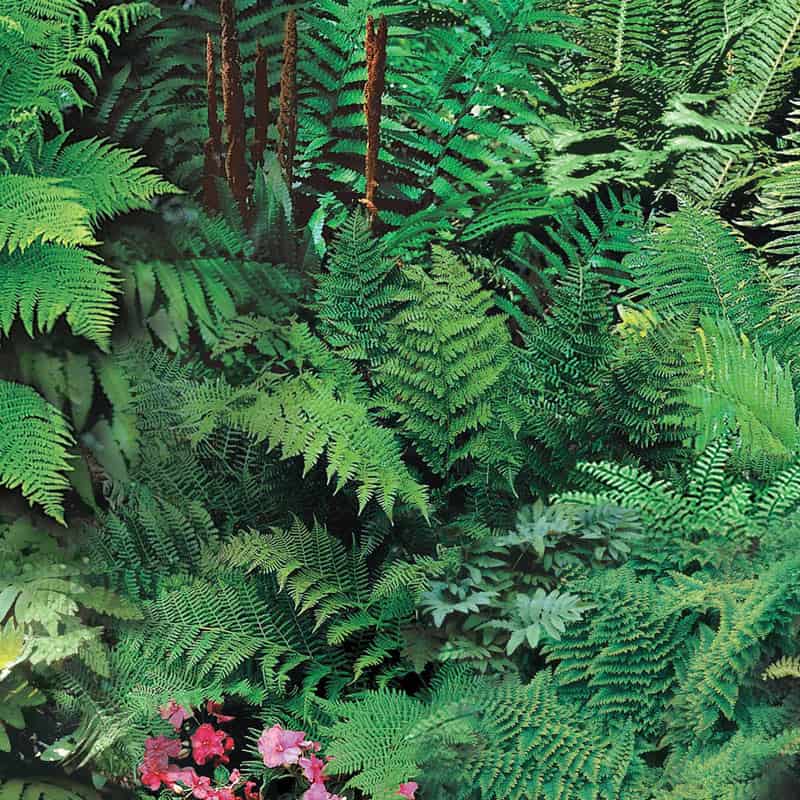 Examine the care label of the plant you have determined whether they are multiplying, and then select an area in your yard to allow them to expand without restriction.
Ferns thrive best in loose and loamy soil and require plenty of water to flourish. Apply mulch to the soil to stop the plant from drying too fast, then water them often.
BRACKEN FERN
The Cinnamon Fern is a great plant, constantly reminding us of the comforting atmosphere around cinnamon sticks through its beautiful light brown-cinnamon color and flaky texture.
Planting a Cinnamon Fern in your yard is an excellent way to spruce up your landscape and add lush greenery. But be sure to choose the right spot - they thrive in deep shade or filtered sunlight and need soil rich in organic matter. Add extra compost for maximum moisture, and viola !
You can expect your new fern to multiply with the right conditions. One common mistake with these ferns is to forget to keep the ground moist when planted in the sun - if you do, the plant will dry out faster than expected and may not survive. So don't skimp on water; keep your plant shaded and enjoy fast growth for years to come!
CHRISTMAS FERN
This beautiful fern is ideal for shaded places and is low maintenance once established. They are great indoor plants because of their light requirements. Maintain their soil wet during dry seasons and ensure the soil the plants are planted in has lots of organic matter, which can aid in water retention.
They offer excellent ground coverage and create lush, beautiful greenery underneath massive trees with thick foliage, which limits the plants with higher sunlight requirements. They brighten up boring, dull spaces in indoor settings with their vibrant green hue and tangled frosts.
OSTRICH FERN
It can thrive in moist and shaded areas. Ostrich ferns are the ideal choice to fill any water gaps in your yard so that other plants can't thrive. In the realm of science, it's more commonly called Matteuccia struthio pteris.
The ostrich plant has huge upright fronds that look like the plumes of an ostrich. It is a prolific producer of fiddleheads in early spring. It thrives in full or partial sunlight.
This low-maintenance perennial is most efficient in zones 3 through 7, grows up to 3-8 feet tall, and has a five-foot spread.
FIDDLEHEAD FERN
Fiddlehead ferns can roll into a new frond when left on the stalk. They are harvested early in the season before the frond has bloomed and reached its largest size. They have antioxidant properties. They are rich in iron and fiber and contain omega-3 and omega-6 fatty
acids. But, some species could cause cancer. The curving design on the face of a musical instrument, similar to a fiddle, is similar to the fiddlehead. It's also called a crozier because of the curving staff that priests used. It originated from a shepherd's knife.
LADY FERN
This beautiful deciduous fern is an invasive plant that spreads by the rhizomes. It thrives particularly well in areas with light that is dappled. A beautiful feature of a shade garden is the variety of visuals that can be seen when hints of light appear on the leaves of plants that love shade scattered throughout the garden.
This smooth appearance North American native plant grows in dense, large clusters and is more sun- and drought-resistant than other ferns.
Its vibrant green leaves are resistant to rabbits and deer and are an excellent choice for parts of the sunlight. Lady ferns thrive in zones 4-8 and mature to a height of 18-30 inches.
ROYAL FERN
Royal Fern and Osmunda Regalis Ferns are among the lower-maintenance plants. They are among the plants that require minimal maintenance. Royal Fern grows best in zones 3-9. This means it covers a large surface where it can flourish and develop.
The vibrant green fronds cut in two that make up the royal fern are distinct. It's almost maintenance-free and prefers feet that are moist and wet. It can tolerate partial sun. Thrives best in zones 3-9 and is average and spread of 3 feet.
To add some variety, consider adding some of the most prolific plants to get full sun near your royal fern. It is essential to ensure they are okay in wet, muddy soil.
MAIDENHAIR FERN
The maidenhair fern features graceful leaves that are feathery and green, maturing from one to three feet and spreading to about 2 inches. It is tolerant of the partial sun in zones 3 through 11.
The green and blue leaves of these ferns are unique on a border when planted with flowers that require full sun.
It is a North American native; this stunning fern is ideal for planting outdoors and indoors, as the stunning flowers are gorgeous in bouquets. As with most ferns, maidenhair fern requires little maintenance. A plant that's well-adapted to shade can thrive in sunny areas, provided it is kept in good condition.
SENSITIVE FERN
The sensitive ferns are native to North America. The species can thrive anywhere in the 48 contiguous states. Although it requires little attention, gardeners in the most humid and dry regions will have to replenish their water supply.
Sensitive Ferns prefer full sunlight but are tolerant of partial or complete shade. It favors neutral to acidic soil (pH of 5.6 to 7.3).
Sensitive ferns can withstand frigid temperatures. It is an outdoor plant. It can be hardy up to zone 3a (as cold as -40°F, or 40 degrees Celsius).
LEATHERWOOD FERN
The plant's fronds develop into an oval shape and quickly shrink or taper toward one side. Lance-shaped blades create soft green fronds that are arranged in an uncrowned cluster. Mulch the area with 2 inches of leaves to prevent crowns from drying.
They're large tall crowns thickly covered with light brown scales; they create a hardy, single peak. It can grow in the shade or full sun in regular soils, between well-drained and moist soil.